What was once a gift from the team to its player is now a lot more than that.
The first time a team gave its players a ring was in 1893 by the Montreal Hockey Club (visit Wikipedia to learn about this defunct team). Fun fact, this was also the first year the actual Stanley Cup was awarded. No other team gave the  players rings until 1927 when the Ottawa Senators won the Cup. Curiously enough, the Montreal Hockey Club did win the Stanley Cup again in 1915 but they opted to give the players watches instead.
There are lots of funny ring stories throught the years of the league, lots of them can be read in our other text about the Stanley Cup Rings. In recent news, just last year the Penguins went beyond what was done in past by also presenting the players' wife with rings of their own.
That being said, this is exceptional. Usually, the rings are given to the staff – so we're talking GM, coaches, trainers and other support staff – and we've seen some rings given as hommage to old players who had some sort of ambassor roles with the team.
How much does a ring cost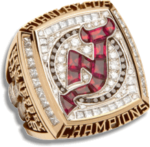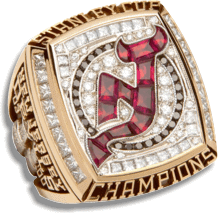 According to the research we did, the average cost of ring, as of the early 2000's, was between 20,000 and 25,000$. In 2010, the Chicago Blackhawks won their 1st Stanley Cup in over 40 years and the players were given a 14 karat white gold ring with over 400 diamond at a 30,000$ estimated value.
This is quite a jump when you think that in 1965 John Ferguson who had won the Stanley Cup with the Montreal Canadiens had to pay 60$ for his ring.
What if you're a fan and you want to buy a ring?
Some team, in tandem with the jeweler that craft the rings, will offer fans the ability to get their own version of the ring. If we take the Chicago Blackhawks example, they did just that in 2015
They came up with 2 versions of the ring (photos to come later) :
The Ultimate Fan ring
Was being sold for a bit over 5,800$
Made of 10-karat white gold
Contained 63 diamonds
The "regular" fan ring
Offered at at starting price of 285$

Had 12 diamonds

Choice of 3 different metals (one of them being 10-karat white gold)