The year 1998 gave us the 105th Stanley Cup championship. It was the Capitals' first time in the finals since the franchise's NHL debut in 1974 but the lost to the Red Wings who won the series for the second year in a row. It was the Wings' ninth Stanley Cup, and as of 2010, this is the last season in which a defending Stanley Cup champion has successfully defended and retained the Cup.
This championship is also memorable as the team dedicated it to player Vladimir Konstantinov and team masseur Sergei Mnatsakanov how were seriously injured during the previous offseason.
On another note, the 1998 edition ring doesn't have lots of photos in circulation.  Here's the only one I have found of decent quality.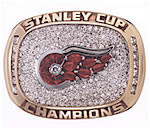 Roster
Centres
19 Steve Yzerman (C)
8 Igor Larionov
33 Kris Draper
41 Brent Gilchrist
91 Sergei Fedorov
21 Darryl Laplante
Goaltenders
30 Chris Osgood
31 Kevin Hodson
34 Norm Maracle
Wingers
11 Mathieu Dandenault
17 Doug Brown
14 Brendan Shanahan (A)
18 Kirk Maltby
20 Martin Lapointe
22 Mike Knuble
25 Darren McCarty
26 Joe Kocur
13 Vyacheslav Kozlov
96 Tomas Holmstrom
Defencemen
3 Bob Rouse
5 Nicklas Lidstrom (A)
2 Viacheslav Fetisov
15 Dmitri Mironov
16 Vladimir Konstantinov
27 Aaron Ward
34 Jamie Macoun
44 Anders Eriksson
55 Larry Murphy