The 2001 Stanley Cup Finals were played in the 108th year of the Stanley Cup, pitting the defending champion New Jersey Devils against the Colorado Avalanche. The Avalanche won the series in seven games, claiming their second Stanley Cup championship. This marked the only Stanley Cup championship for Avalanche defenseman Ray Bourque, who retired following the series. As of 2008, this is also the most recent time that the defending Stanley Cup Champions would return to the Finals for a consecutive year.
There are 2 photo versions of the ring circulating on the internet. It has been impossible so far to confirm which one is authentic. Here are the photos.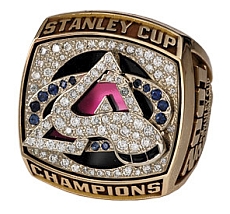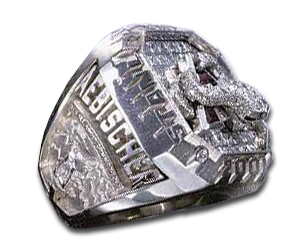 Here is a photo of another ring. According to my research, this ring was given to a member of the front office staff and it would make this an unofficial championship ring.

ROSTER

Centers
Wingers
Defensemen
Goaltenders