The New Jersey Devils were in the finals for their fourth time after defeating the Boston Bruins and Tampa Bay Lightning in five games, and beating the Ottawa Senators in the Eastern Conference Finals in seven games. Strong goaltending from Martin Brodeur, and strong defense from captain Scott Stevens and Scott Niedermayer led the way.
The Mighty Ducks of Anaheim entered their first Stanley Cup Final in franchise history after upsetting two heavily favored teams: sweeping the defending Stanley Cup Champions, the Detroit Red Wings, defeating the Dallas Stars in six games, plus sweeping the upstart Minnesota Wild in the Western Conference Finals thanks to the stellar goaltending of Jean-Sebastien Giguere, only allowing one goal during the entire series. Backing up Giguere were players such as Paul Kariya, Petr Sykora, Adam Oates, plus Rob Niedermayer, brother of then-Devils star defenceman Scott Niedermayer. This series was memorable for two brothers on different teams competing for the same prize.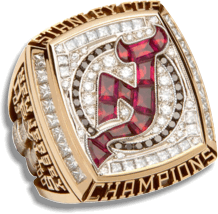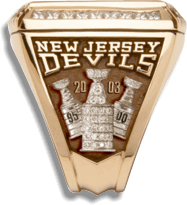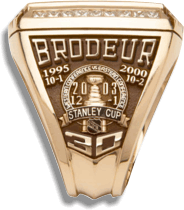 This is Martin Brodeur's ring as it can be read on the right side of it.
ROSTER

Centers
Wingers
Defensemen
Goaltenders