Jean Béliveau won a record total of 17 Stanley Cup rings… 10 as a player and 7 under different administrative roles for the Montreal Canadiens.
Not much is known about this ring.  All info we could find hinted that the ring was given to mister Beliveau upon his retirement to honor him and his 10 Stanley Cup conquests.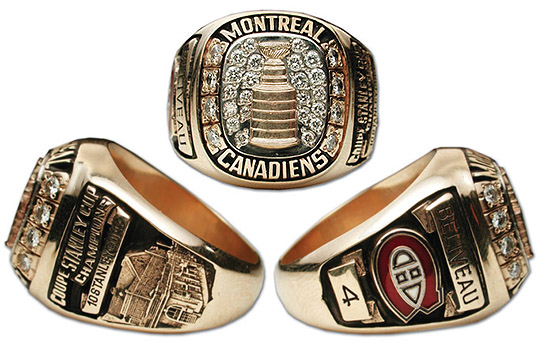 This next set of photos are from the ring given to Jean Béliveau when he got inducted into the Hockey Hall of Fame.

PLAYER BIO
(source: Wikipedia)
A star at an early age, he was spotted by Canadiens general manager Frank Selke at the age of 15. Selke tried to get him to sign a "C-form," the usual form by which NHL teams bound young players to them. Under the form's terms, the player agreed to join the NHL club at a set date, and at an agreed-upon salary. However, Jean's father balked, and eventually Selke had to content himself with having Jean sign a "B-form," in which he agreed to play for Montreal should he ever decide to turn pro.
Béliveau became a star in Quebec's amateur leagues, and was called up twice for brief appearances by the Canadiens in 1950–51 and 1952–53. He led the Quebec Senior Hockey League in scoring in 1953. However, he didn't appear to show much interest in playing professionally. Finally, Selke got an idea–if the QSHL were somehow turned into a professional league, Béliveau would be a professional as well, and under the terms of the B-form he would have to sign with the Habs. At Selke's suggestion, the Canadiens bought the QSHL and converted it from an amateur league to a minor pro league. This forced Béliveau to join the Canadiens for the 1953–54 NHL season (though the Habs owned the NHL rights to all of the league's players in any case).
Three years later, in 1956, Béliveau won both the Art Ross Memorial Trophy as the league's scoring champion and the Hart Memorial Trophy as its most valuable player. During his 18 full seasons in Montreal, he played on 10 Stanley Cup winning teams 1956, 1957, 1958, 1959, 1960, 1965, 1966, 1968, 1969, 1971. For his last 10 seasons, he was the team captain. He was nicknamed "Le Gros Bill" after a mighty character from Quebecois folklore.
A powerful skater, he had a polished air of composed confidence that made him a natural leader both on and off the ice. Admired and respected by fans, teammates and his opponents, he was the first player to win the Conn Smythe Trophy for his performance in the 1965 Stanley Cup playoffs.
Béliveau retired at the end of the 1970–71 NHL season as his team's all-time leader in points, second all-time in goals and the NHL's all-time leading playoff scorer. He scored 507 goals and had 712 assists for 1,219 points in 1,125 NHL regular-season games plus 79 goals and 97 assists for 176 points in 162 playoff games. His jersey number (#4) was retired on October 9, 1971. In 1972, he was inducted into the Hockey Hall of Fame. He is now the second all-time leading scorer in Canadiens history, behind Guy Lafleur. Only Henri Richard and Larry Robinson played more games for the Habs.